The awkward drama over if South Africa would satisfy its treaty obligations to the International Bad Guy Court (ICC) by arresting Russian leader Vladimir Putin throughout the upcoming BRICS summit in Johannesburg was obviously solved on Tuesday.
South African President Cyril Ramaphosa stated that jailing Putin would amount a "statement of war" against Russia, and that would be "irregular" with the South African constitution, but the Kremlin then announced Putin would not participate in the BRICS top anyhow.
The Putin issue was so hard for Ramaphosa that South Africa may have backed out of hosting the BRICS summit, passing the responsibility along to another member, probably China. BRICS is a financial bloc whose members are Brazil, Russia, India, China, and South Africa.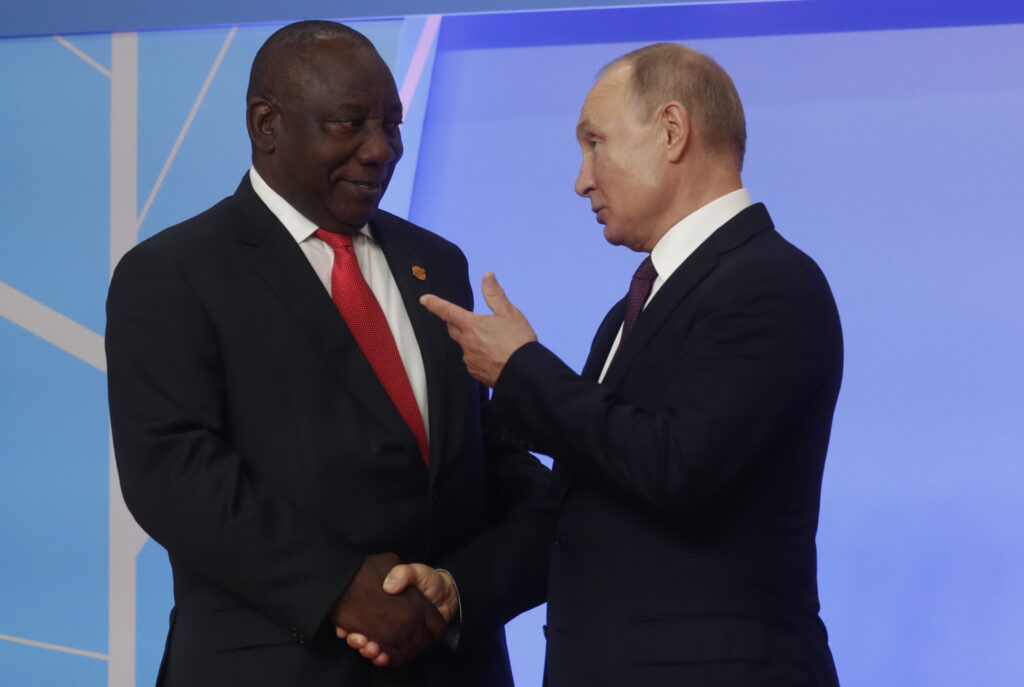 Russian President Vladimir Putin(L)welcomes South African President Cyril Ramaphosa during the official welcoming ceremony for the presidents and government of states participating in the 2019 Russia-Africa Summit in Sochi on October 23, 2019. (Photo by SERGEI CHIRIKOV/POOL/AFP via Getty Images)
In late May, South Africa tried to finesse the problem by pre-emptively granting diplomatic immunity to every attendee of the Johannesburg summit in August. The ICC, which counts South Africa as one of its founding individuals, signaled this loophole would not be sufficient to relieve Ramaphosa's government of its duty to detain Putin.
The ICC released an arrest warrant for Putin and one of his leading authorities, Maria Alekseyevna Lvova-Belova, in March 2023. The two were charged with the war crime of "unlawful deportation of population" from occupied Ukraine. Lvova-Belova's firm supervised of a plan to kidnap thousands of Ukrainian children and bring them to Russia for indoctrination.
"Russia has made it clear that detaining its sitting president would be a declaration of war. It would be against our Constitution to risk participating in war with Russia," Ramaphosa said in an affidavit to a South African court that was filed in June however not made public until Tuesday.
"I have constitutional responsibilities to secure the nationwide sovereignty, peace and security of the republic and to respect, protect, promote and fulfill the rights of the people of the republic to life, security and security, to name a few rights in the Costs of Rights," he firmly insisted.
Ramaphosa did not clearly refuse to do something about it versus Putin in his affidavit. Rather, he said his government's strategy for handling Putin needed to be kept secret up until the last possible minute and chided his challengers for introducing a court action prior to validating that Putin would visit Johannesburg face to face.
"No final decision has actually been made that he will in reality pertain to South Africa. As things stand, there is therefore no cognisable legal cause that might ever ground a mandamus to jail and surrender President Putin," Ramaphosa stated.
Ramaphosa stated his Cabinet has "identified that the BRICS Top will be held in a way that assures that South Africa abides by its worldwide and legal responsibilities" but would not devote to apprehending Putin if he did show up.
The court stated it would continue with hearings on Friday to determine if a court order needing Ramaphosa to jail Putin ought to be released.
South Africa's News24 noted that Ramaphosa submitted his affidavit in secret due to the fact that he "did not want the public to understand" he was raiding satisfying his ICC treaty responsibilities.
The court turned down the president's application to keep the affidavit sealed from the general public. Ramaphosa's office insisted it was "never opposed to making the affidavits public" but attempted to keep them confidential because ICC directives needed it.
The Kremlin stepped in to take the heat off Ramaphosa on Wednesday by revealing that Putin has actually chosen not to attend the BRICS top in person however will instead participate by video call. The Russian government explained this plan as a "shared agreement" with South Africa.
The opposition Democratic Alliance (DA) commemorated Ramaphosa's obstacles in court as a "victory," boasting that "Putin and Ramaphosa have now bent the knee before the DA's defend the rule of law."
"When foreign policy decisions have the capacity to annihilate South Africa's international credibility … and decimate our economy, it is important that government maintain its obligation to be open and transparent," stated DA leader John Steenhuisen.
South African Deputy President Paul Mashatile stated his federal government had been trying to convince Putin to skip the top for months, without success, until the Kremlin's sudden modification of heart on Wednesday.